Andrii Chugai originates from Kiev, Ukraine. He graduated from the National Music Academy of P. Tchaikovsky in Kiev. Since 2013 he has been studying in the Netherlands with professor Boris Belkin at the Maastricht Conservatorium.
Andrii has performed in the major concerts halls of Ukraine with the National chamber orchestra "Kiev Soloists", both as a member and as a soloist. Andrii has participated in many orchestral, chamber and solo music performances and festivals all around the world including Switzerland, Italy, Netherlands, Belgium, China, USA, Germany, Austria, Spain, Ukraine, and Russia.
He took a part in many master courses including Accademia Musicale Chigiana in Siena with Boris Belkin, Schaffhauser Meisterkurse (Prof. Valeriy Sokolov, Wen-Sinn Yang, Jörg Widmann), Académie de musique de Lausanne (Prof. Pierre Amoyal and Pavel Gililov).
He is a winner of international competitions including Kotsiana (Czech Republic), and first place wins in "Silver Bells" (Ukraine), International music competition "Citta di Crotone" (Italy) and "XXI Century Art" (Ukraine).
In 2017 he has received several scholarships incluading DakApp and CM foundations.
Since September 2014 Andrii Chugai has an anonymous Italian violin, made in Naples ca. 1850 on loan from the collection of The Dutch Music Instruments Foundation.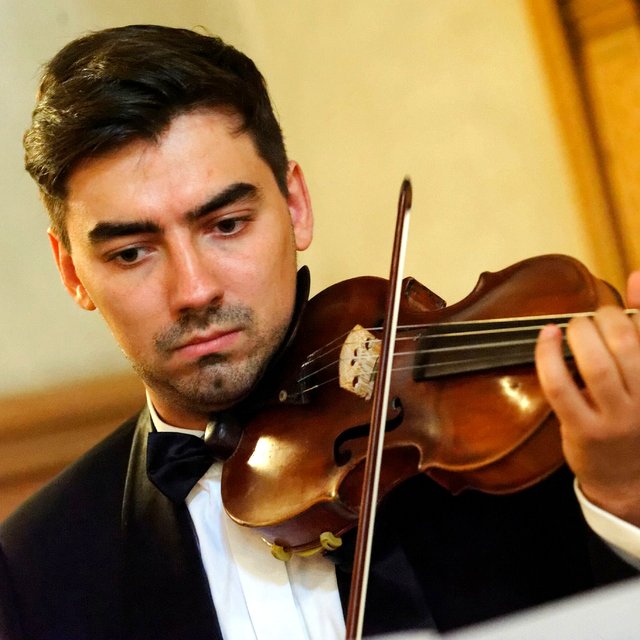 Concerten met Andrii Chugai:
Persoonlijke website